De tarieven van onze appartementen zijn:
Eel Garden Sunrise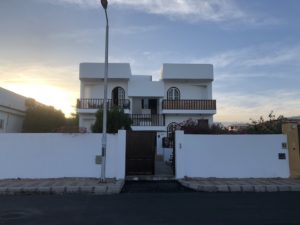 € 50,- per nacht
€ 325,- per week
€ 950,- per maand
Blue Light Apartment
€ 50,- per nacht
€ 325,- per week
€ 950,- per maand
Dit is inclusief het gebruik van alle apparatuur, bedlinnen, handoeken, airo, water en wifi.
De (eind)schoonmaak kost € 50,-
Luchthaventransfer (SSH) in een privéauto of minibus is beschikbaar voor € 60, – (heen en terug incl.) voor reisgezelschappen tot 4 personen.
Betalingen:
Een aanbetaling van 25% kan direct na goedkeuring van uw boeking via deze website worden betaald. Het restantbedrag kunt u bij aankomst betalen aan onze lokale host. Indien gewenst kunt u ook de gehele reissom vooraf betalen.
Discounts:
Voor grotere reisgezelschappen (t/m 9 personen) is het mogelijk om beide appartementen gecombineerd te huren. In dat geval wordt een korting van 20% toegepast op de huurprijzen die hierboven vermeld staan.
Vrijwilligers en donateurs van Animal Welfare Dahab en Stichting Zwerfdieren in Dahab (www.zwerfdierenindahab.nl) krijgen een korting van 10% op de bovengenoemde huurprijzen. Kortingen kunnen niet gecombineerd worden.
Speciale verzoeken:
Als u speciale verzoeken hebt, of een offerte wilt voor een specifieke (langere) periode, laat het ons dan gerust weten via email: (info@dahabholidayapartments.com) of gebruik het contactformulier op deze website.
---
Beschikbaarheid Blue Light Dahab: Calendar Updated on 15 January, 2021 at 09:55 am
December 2023
| | | | | | | |
| --- | --- | --- | --- | --- | --- | --- |
| Mon | Tue | Wed | Thu | Fri | Sat | Sun |
| | | | | 1 | 2 | 3 |
| 4 | 5 | 6 | 7 | 8 | 9 | 10 |
| 11 | 12 | 13 | 14 | 15 | 16 | 17 |
| 18 | 19 | 20 | 21 | 22 | 23 | 24 |
| 25 | 26 | 27 | 28 | 29 | 30 | 31 |
January 2024
| | | | | | | |
| --- | --- | --- | --- | --- | --- | --- |
| Mon | Tue | Wed | Thu | Fri | Sat | Sun |
| 1 | 2 | 3 | 4 | 5 | 6 | 7 |
| 8 | 9 | 10 | 11 | 12 | 13 | 14 |
| 15 | 16 | 17 | 18 | 19 | 20 | 21 |
| 22 | 23 | 24 | 25 | 26 | 27 | 28 |
| 29 | 30 | 31 | | | | |
---
Beschikbaarheid Eel Garden Sunrise Dahab Calendar Updated on 15 January, 2021 at 09:55 am
December 2023
| | | | | | | |
| --- | --- | --- | --- | --- | --- | --- |
| Mon | Tue | Wed | Thu | Fri | Sat | Sun |
| | | | | 1 | 2 | 3 |
| 4 | 5 | 6 | 7 | 8 | 9 | 10 |
| 11 | 12 | 13 | 14 | 15 | 16 | 17 |
| 18 | 19 | 20 | 21 | 22 | 23 | 24 |
| 25 | 26 | 27 | 28 | 29 | 30 | 31 |
January 2024
| | | | | | | |
| --- | --- | --- | --- | --- | --- | --- |
| Mon | Tue | Wed | Thu | Fri | Sat | Sun |
| 1 | 2 | 3 | 4 | 5 | 6 | 7 |
| 8 | 9 | 10 | 11 | 12 | 13 | 14 |
| 15 | 16 | 17 | 18 | 19 | 20 | 21 |
| 22 | 23 | 24 | 25 | 26 | 27 | 28 |
| 29 | 30 | 31 | | | | |